Very useful article on the Guardian ICT Leadership site
Price, performance and compatibility are just some of the issues you need to be clear on when deciding on your school's ICT procurement strategy – but what else should you be considering?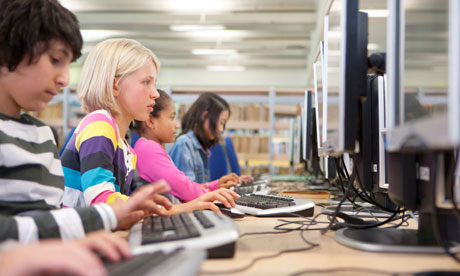 When looking to procure new ICT, senior school managers should consider not just the purchase price of equipment, but compatability with existing inventory and additional costs such as warranties and support. Photograph: Alamy
Information and communications technology (ICT) is a key teaching tool. It costs vast amounts of money. If you are a headteacher, your staff look to you to take a leading role (and the governors all have their own, different, opinions). It's a tricky scenario familiar to any senior manager making a decision on ICT – and budget cuts are making the decisions ever harder. However, a bit of background knowledge and a clear strategy for procurement can make all the difference.
The first task is to be absolutely clear about the specification. If you're buying new laptops for students, for example, will they be running processor-intensive multimedia software or will they just be used for internet access? How long do you plan to use them – and are requirements likely to change over that time? "Don't go for the cheapest on the market, but choose something that will take the workload, and you won't need to replace it in three years," advises Imre Homoki, ICT network manager at Cams Hill school in Fareham, Hampshire.
Next, do your research. Find out what technology other schools are using and whether they are happy with it. Some schools club together to share advice and tips. Although schools' ICT agency Becta has gone, you can consult other independent sources of advice, such as NAACE (the ICT association) and the Specialist Schools and Academies Trust (SSAT).
Price is critical, but make sure you're looking at the whole picture, which means the total cost of ownership over a product's lifetime, not just the purchase price. What are the additional costs of warranties, insurance, technical support, maintenance, replacing damaged parts, or lost productivity if the equipment breaks? For example, Tim Hatch, Intel's education business manager, says that many schools are choosing free, open source software over expensive licences. This can make sense, but it's important, he adds, to be aware of hidden support costs and to take into account the investment you've already made.
Similarly, Julian Morgan, assistant headteacher at Chatsmore Catholic high school in Worthing, West Sussex, recently worked on the procurement of a wireless network and a set of netbooks for students. He found that interviewing the shortlisted candidates rather than relying on a quote was a good way of finding out how well suppliers understand the particular needs of schools.
"When we bought the wireless network, some people presented their product in terms of how technically adept it was, but not in terms of how it would benefit our students," Morgan says. As he points out, a school that has 600 or more concurrent users will place greater demands on a wireless network than a similar-size business where not everyone uses the network at once.
Compatibility with existing equipment should also be a key part of the procurement decision, says Neil Willcocks, head of ICT at Neville Lovett school. "If you're buying PCs, get a few from the companies you're looking at to come on the school network and see how they work. You can get a situation where it doesn't matter how fast the PC is, it doesn't necessarily interact with the school network very well."
By the same token, taking on a mishmash of suppliers is asking for trouble. "People make a mistake when they jump from technology to technology, supplier to supplier," says Homoki. "Eventually they look at inventory and they don't know where things are. It's best to have just three or four core suppliers, for hardware, software and printers, so if there is a compatibility issue, you know where to go to."
Finding out exactly what technical support is on offer is a crucial part of assessing a supplier's offering. Willcocks says his school chose a local supplier for the school's new desktop PCs because it didn't want to have to wait days while equipment was sent away for repair: "We didn't pick the cheapest one, but they provided us with a good service. If there are any problems, we can just get them to pick stuff up or we drop stuff in and there's a fast turnaround."
Finally, Tim Hatch recommends looking at different payment models. By renting equipment or adopting cloud computing, schools can leave capital budgets untouched, instead paying a fixed, predictable cost from the operational budget that has the added benefit of reducing carbon footprint. Hatch believes this model will become increasingly popular over the next 18 months: "You know on a monthly basis where you are, and you can build some level of sustainability into it as well."